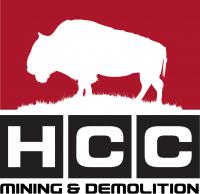 HCC Mining and Demolition Inc.
HCC was built from the ground up in Saskatchewan, while successfully branching out to other parts of Canada and around the world. HCC is the leading name in providing mining solutions in the province. Our objective is to develop long-term relationships with mine owners, by ensuring their interests are aligned with our partners and people.

Our dedication to and experience in providing qualified personnel, unique solutions, specialized equipment and successful execution of complex projects has allowed HCC to achieve its industry-leading status and to maintain its solid track record for excellence in safety.
---
More About
HCC Mining and Demolition Inc.
It's been our priority to improve the communities within which we work - locally, nationally and globally - by offering employment to the local area residents. As such, our workforce is well-represented by the demographics of our project locations.
From creating roadways to isolated communities in northern Saskatchewan, to being a leading underground mining construction and development contractor across Canada, to mining in resource-rich areas of the world such as British Columbia, Angola, the Congo and the former Soviet Union, HCC brings its years of experience and expertise to each project.
---
Photos
HCC Mining and Demolition Inc.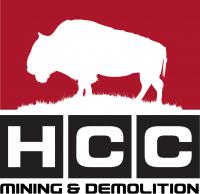 Technical Capability Summary
Bulk Materials - Quarry Products
Granular Material Production Riprap and Gabions
Concrete
Construction Cutting and Coring Mixing & Batch Plants Pilings Shotcrete Structural Concrete Placement
Construction
Asphalt Paving Bridge & Steel Building - Install Concrete Culverts Earthmoving Erosion Protection Erosion Protection - Rip Rap Erosion Protection - Silt Fence Excavation Fencing General Contracting - Civil / Earthworks General Contracting - Piping / Mechanical / Structural HDPE Pipe - Install Industrial Buildings Industrial Buildings - Fabric Industrial Machinery - Installation Industrial Machinery - Service Industrial Machinery - Supply Millwright Piling and Shoring Pre-Engineered Fabric Structures Roadwork Maintenance or Construction Waterworks and Sewage Systems
Consulting
Mining Mining - Engineering
Drilling
Blasting Drilling Services - Coring Drilling Services - Diamond
Heavy Equipment
Mining Operation or rental with Operator Rentals - Heavy Equipment Repair Services - Heavy Equipment Roadwork Maintenance or Construction
Mechanical & Piping
General Mechanical Mine Ventilation Pipe - HDPE - Installation Pipe - Pressure Certified (T-Sask) Pipe - Steel - Installation Process Piping Work
Metal Fabrication
CWB W47.1 CWB W47.1S CWB W47.2 Non CWB
Mining
Belting - Processing Converyor Rollers & Systems Feeder Breakers Ground Support - Resin & Rock Bolts Ground Support - Screen Mine Doors Mining Services & Underground Development Mining Services & Underground Development - Design Mining Services & Underground Development - Engineering Steel Fabrication Steel Fabrication - pump boxes
Mining Engineering
Civil Mechanical Structural
Mining Equipment
2 Rotor & 4 Rotor Boring Machines Belt Winder Continuous Haulage Continuous Miner Continuous Mining Machines Material Handling Process Equipment - Mining Process Equipment - Screens Roadheaders Tunneling Machines Undercutter Machine
Pipeline
Construction
Professional and Specialized Services
Project Mgmt services
Safety
Emergency, Training and Safety Services
Services
Blasting Drilling Services - Coring
Supplies
Explosives
Underground
Mining Services & Underground Development Mining Services & Underground Development - Bins Mining Services & Underground Development - Conveyors Mining Services & Underground Development - Design Mining Services & Underground Development - Engineering Mining Services & Underground Development - Steel Shaft Sinking
Welding
Compressed gas Welding Service Welding Service - Alloy Steel Welding Service - ASME Welding Service - Carbon Steel Welding Service - CWB Welding Service - TSASK