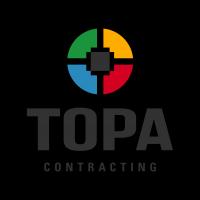 Topa Contracting Ltd.
Topa Contracting Ltd. was created in December of 2018 as a partnership between FHQ Developments and Noble Construction Corp. With a focus on First Nation inclusion in the Industrial, Commercial and Mining Construction sectors, this partnership combines the strengths and resources of FHQ Developments with Noble Construction's knowledge and experience. These attributes come together to create a construction powerhouse offering clients superior quality work, on-time delivery, and strong safety focus, all while developing a diverse and inclusive workforce.
---
More About
Topa Contracting Ltd.
Topa Contracting is a dynamic general contractor with the ability to take on various types of projects, both big and small. Our diverse range of skills allows Topa Contracting to offer a comprehensive suite of construction, electrical, maintenance, security and janitorial services to our clients; including, but not limited to:
Janitorial and Site Services
Janitorial
Building maintenance and repair
Site clean up
Road maintenance
Grounds keeping
Landscaping
Snow removal
Vegetation control
General
Concrete
Sandblasting
Paint/Coatings
General labour
Security
Mechanical (Installation and Maintenance)
Process equipment
Pumping systems
Air compressors
Steel erection
Structural repairs
Tanks/Vessels
Piping (natural gas, pressure, HDPE)
Overhead doors
Overhead cranes
Electrical and Instrumentation
Cable tray
VFDs
Lighting upgrades
Conduit Installation
Fire alarm systems
Maintenance and repair of existing electrical systems
Grounding and bonding
Switch gear
PLC and control wiring
Power distribution (cable, splicing and stress cones)
Heat trace
Mining
Miner operation
Conveyance systems
Pumping and dewatering
Ventilation
Rehab and ground control
---
Photos
Topa Contracting Ltd.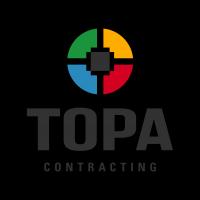 Technical Capability Summary
Building Finishing - Carpentry & Millwork
Finish Carpentry Lumber Decking Millwork Supply & Install Rough Carpentry
Building Finishing - Doors & Hardware
Door and Hardware Install Doors- Metal & Frames
Building Finishing - Drywall & Ceilings
Acoustics Ceilings Drywall / Steel Studs
Building Finishing - Fireproofing & Sealants
Fireproofing - Paint Fireproofing - Spray Firestopping Sealants & Caulking
Building Finishing - Painting & Wall Finishes
Cementitious Coatings Concrete and Masonry Coatings Elastomeric Coatings Epoxy Coatings Hi-Build Glazed Coatings Painting / Wall Covering Steel Coatings Wall & Door Protection
Building Finishing - Specialty Rooms
Building Modules Clean Rooms Insulated Rooms
Bulk Materials - Concrete Admixtures
Concrete Admixtures
Bulk Materials - Quarry Products
Cement
Cleaning
Bins/Hoppers/Silos Cleaning and Coating of Tanks HVAC/Duct Laundries - Dry Cleaning Mobile Pressure Cleaning Mobile Steam Cleaning
Concrete
Construction Cutting and Coring Cutting and Coring - Above grade Cutting and Coring - Below grade Cutting and Coring - Wall cut deapth greater than 20" Drilling, Concrete Diamond Drilling, Concrete Diamond - Coring Diameter greater than 20" Drilling, Concrete Diamond - depth greater than 4' Pilings Pneumatic Concrete Pumping Precast Concrete Pumps - Pneumatic Reinforcing Steel for Concrete Products Shotcrete Structural Concrete Placement Supply - Cement Testing Testing - Aggregate Testing - Compression
Construction
Cable Trays Cable Trays - Install Concrete Concrete - Coatings Culverts Drywall Earthmoving Fencing Fireproofing - Cementitious General Contracting - Electrical / Instrumentation General Contracting - Piping / Mechanical / Structural Insulation - Buildings Insulation - Mechanical Plumbing - Installation Roofing, Eaves - Spray Foam Spray Foam Insulation Spray Foam Insulation - Buildings Spray Foam Insulation - Skids Tanks - Coatings
Consulting
Occupational Health
Drilling
Blasting
Electrical - Electrical Bulk - Cable
Cable - Control Cable - Earthing Cable - LP Cable - Power
Electrical - Electrical Bulk - Components
Cable Glands/Termination Cable Lugs Cable Marking Ferrules Cable Tags Cable Termination kits Cable Ties Circuit Breakers Conductor Electrical Heat Trace Junction Boxes Lighting Fixtures Miscellaneous Supports
Electrical - Electrical Systems
Communications Electrical Electrical & Cathodic Protection Electrical Consumables Facility Electrical Power Generation Lighting
Electrical - Electrical Work
Cable Termination and Glanding - LV/MV Cable Tray installations Cabling and Lighting works for buildings Cathodic Protection Electrical Heat Trace Installation Industrial Electrical Installation and Testing of Electrical Equipment MV Termination and Drilling Hole Temporary Power
Instrumentation & Electrical
Aboriginal – Metis and First Nations inclusion program Automation VFD HMI PLC Sensors Automation VFD HMI PLC Sensors - Installation Battery Systems - Supply & Install Commercial and industrial Commercial and industrial - Construction Commercial and industrial - Electrical Commercial and industrial lighting solutions Commercial and industrial lighting solutions - Energy efficient upgrades Commercial and industrial lighting solutions - New Commercial and industrial lighting solutions - Retrofit Commercial and industrial - Maintenance Control Systems Testing Control Systems Testing - Control systems Control Systems Testing - Power quality Control Systems Testing - Systems Ground Control Systems Testing - Testing Control Systems Testing - Troubleshooting Custom Electrical Solutions Data, fibre optics communication systems - Installation Electrical - Cabling & Wiring Electrical - Cabling & Wiring - Installation Electrical - Cabling & Wiring - Service Electrical - Cabling & Wiring - Supply Electrical - General Electrical - General - Installation Electrical - General - Service Electrical - General - Supply Electrical modernization and migration planning Electrical modernization and migration planning - Installation Electrical modernization and migration planning - Service Electrical modernization and migration planning - Supply Electrical safety training – Shock – Arc Flash – Audits Electric Utility Electric Utility - Installation Electric Utility - Service Electric Utility - Supply Equipment, Industrial Equipment, Industrial - Installation Equipment, Industrial - Service Equipment, Industrial - Supply Fire Alarm system installation Fire Alarm system installation - New Fire Alarm system installation - Retrofit Industrial - Installation Industrial - Service Instrumentation - Installation Instrumentation - Service Instrumentation - Supply LED Lights Modular Electrical Buildings - Electrical Integration Switchgear Switchgear - Installation Switchgear - Service Switchgear - Supply Transformers Transformers - Service Transformers - Supply UPS Systems UPS Systems - Installation
Security
Services
Services
General Labour Maintenance Maintenance - Electrical Maintenance - General Preventative Maintenance Preventative Maintenance - Electrical Preventative Maintenance - General Security Training Training - Fall Arrest Training - PME, Wirelock Socketting, General Mine Safety Awareness, Tugger Safety Training - Rigging/Overhead Crane