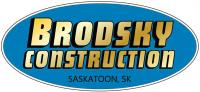 Brodsky Construction Inc.
Brodsky Construction Inc. has been in operation since 2014, specializing in earthwork and civil construction. The Brodsky family has been involved in the earth moving business dating back to the mid 1940's. Over the years we have earned a strong reputation, and this third generation company continues to operate with the same vision and principles.

Founded in Manitoba by Nathan, Brodsky Construction Ltd. worked throughout Manitoba and Saskatchewan with a strong focus on northern work. Now located in Saskatoon, we work largely across our home province, but also pursue work across Manitoba and Alberta.
---
More About
Brodsky Construction Inc.
Our services include, but are not limited to:​
Site Grading
Lagoons
Landfills
Road Construction
Drainage Works
Structural Excavations
Geotextile and Geosynthetic Applications
Dams
Granular Material Placement
---
Photos
Brodsky Construction Inc.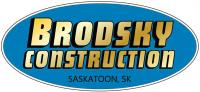 Technical Capability Summary
Construction
Clay, Peat, Soil or Topsoil Digging Clearing and Grubbing, Excavation or Site Surface Preparation Culverts Earthmoving Erosion Protection Erosion Protection - Rip Rap Erosion Protection - Silt Fence Excavation Fill Placement General Contracting - Civil / Earthworks HDPE Pipe - Install Railroad Construction Roadwork Maintenance or Construction Rough Grading Sewer Water Utilities
Environmental
Environmental - Geosynthetics Environmental - Liners Environmental - Liners - Installation
Forestry
Logging Road Construction or Maintenance
Heavy Equipment
Roadwork Maintenance or Construction