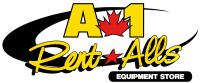 A-1 Rent Alls Ltd.
A1 Rent - Alls is a Saskatchewan owned and operated equipment rental and sales company with over 50 years in the industry. We have a large range of equipment able to outfit almost any job large , small , short term or long term. Also we have our A1 Access scaffolding rental and erection division as well as our Party Store division catering to events large and small. We offer flexible terms for the rental , purchase or rent to own of any equipment in our fleet and beyond.
---
More About
A-1 Rent Alls Ltd.
Aerial work platforms
Material handling equipment
Electrical equipment
Earth moving equipment
Industrial specialty equipment and tooling
Trench shoring
Air quality and climate control equipment
Concrete finishing and cutting equipment
Compaction equipment
Site trailers
Mobile equipment repair and service
Temporary structures
Sanitary equipment
Scaffolding erection
---
Photos
A-1 Rent Alls Ltd.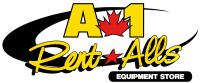 Additional Location #1
mrussell@rent1.net
REGINA, Saskatchewan S4R 1G6
(306) 352-1440 • (306) 216-1200
View in Google Maps
Technical Capability Summary
Construction
Cable Trays Cable Trays - Supply Industrial Buildings - Fabric Industrial Buildings - Modular Pre-Engineered Fabric Structures Scaffolding
Heavy Equipment
Industrial and Oilfield Operation or rental with Operator Rentals - Heavy Equipment
Highways - Traffic Signage
Traffic Signage
Mining Equipment
Material Handling
Pumps
Pumps - Supply & Repair
Retail
Specialty Items
Services
Rentals - Office Trailers Rentals - Washcars Repair Services - Heavy Equipment
Supplies
Fans - Ventilation Mobile Equipment Pumps - Dewatering Rentals - Heavy Equipment Rentals - Lifts/Light Towers/Generators Supply - Drill Auger Supply - Drill Auger/Drill Steel Wing Bits Supply - Drill Bits & Rods
Transportation
Trucking - Open Deck