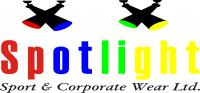 Spotlight Sport & Corporate Wear Ltd.
Spotlight supplies Logo Decorated Apparel and Logo Promotional Products to businesses (as well as schools and teams) to assist with Safety Awards, Safety Apparel, Brand Recognition, Trade Show Give-aways, Appreciation Gifts, Employee Recognition, etc.

Spotlight has invested in apparel decoration equipment to perform 90% of Apparel Decoration in-house at their local print shop (1305 8th Ave and 1309 8th Ave, in Humboldt). In-house Apparel Decoration includes Embroidery, Screen Printing, Direct Print on small runs and Digital Thermal Transfers. Spotlight sources apparel from Canadian companies to decorate, as well as reaches to hundreds of Promotional suppliers across North America (when needed) for the Promotional Products requests.

Spotlight maintains memberships with good standing with, and has been recognized by, industry associations ASI (Advertising Specialties Institute) and PPAI (Promotional Products Association International). Spotlight owners Mike & Shannon have also invested in Industry Education to remain up to date with industry trends (including attending North American Trade Shows).

Spotlight has been recognized for excellence in Marketing and Community Involvement by the Humboldt Chamber of Commerce, as well as the Saskatchewan Chamber of Commerce. Spotlight was honoured to be recognized by the Saskatchewan Chamber of Commerce with the 2019 ABEX Award for Community Involvement.

Spotlight completes orders of all sizes, to support their clients. Bulk orders are accepted as well as providing Online Stores (for apparel) to make providing employees with apparel from numerous offices.
---
More About
Spotlight Sport & Corporate Wear Ltd.
---
Photos
Spotlight Sport & Corporate Wear Ltd.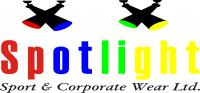 Technical Capability Summary
Retail
Online Sales Promotional Items Specialty Items Workwear
Safety
Personal Protective Equipment & General Supplies