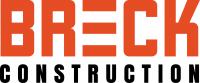 Breck Construction
Breck Construction is the leading provider of customized, integrated and cost-effective trades in the industry. We supply our clients' maintenance and capital needs in both industrial and commercial settings. Whether it be turnaround, regular maintenance, or expansion projects, we put our decades of experience into anticipating client needs.

We manage each project to ensure we get the most out of the crews and equipment provided. That means more work done in less time with a team our clients can trust. Our clients know they can count on us to show up every day, ready to exceed expectations and deliver results that are second to none.
---
More About
Breck Construction
Our management team works to keep our organization running lean so that we can focus on productivity where it matters. Our multi-trade model provides our clients with streamlined services in the areas of scaffolding, insulation, sheet metal, civil, high risk abatement, and carpentry.
---
Photos
Breck Construction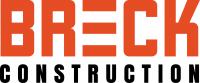 Additional Location #1
Box 11, Site 414, RR #4
Saskatoon, Saskatchewan S7K 3J7
(306) 242-5532
View in Google Maps
Technical Capability Summary
Building Finishing - Carpentry & Millwork
Finish Carpentry Rough Carpentry
Building Finishing - Fireproofing & Sealants
Fireproofing - Board Fireproofing - Spray Firestopping Sealants & Caulking
Construction
Concrete General Contracting - Civil / Earthworks General Contracting - Piping / Mechanical / Structural Industrial Machinery Industrial Machinery - Installation Industrial Machinery - Service Insulation Insulation - Buildings Insulation - Mechanical Millwright Millwright - Install Millwright - Supply Pre-Engineered Metal Buildings Pre-Engineered Steel Structures Rough and Framing Carpentry Scaffolding
Conventional oil and gas Engineering
Civil Mechanical Mechanical - Pumps Structural - Concrete
Mechanical & Piping
General Mechanical General Mechanical - Installation General Mechanical - Service Mechanical Insulation Mechanical Insulation - Installation Mechanical Insulation - Service Mechanical Insulation - Supply Mechanical - Sheet Work and Duct Work Mechanical - Sheet Work and Duct Work - Installation Mechanical - Sheet Work and Duct Work - Service Mechanical - Sheet Work and Duct Work - Supply Mine Ventilation - Installation Parts - Mechanical & Piping - Installation Pipe - Couplings - Installation Process Piping Work - Installation
Roofing
Roof Coating Roofing Roof Leak Repair Roof Safety Rail Roof Sheet Metal Flashing
Services
General Labour Maintenance - General Maintenance - HVAC Maintenance - Mechanical Painting - Commercial Spray Foam Insulation
Supplies
Steel - Sheet Metal Steel - Sheet Metal - dust collection Steel - Structural Steel - Structural - platforms Steel - Structural - structural steel
Welding
Compressed gas Compressed gas - acetylene Welding Service Welding Service - Alloy Steel Welding Service - Carbon Steel Welding Service - CWB