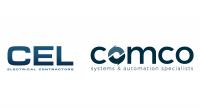 CEL Electrical Contractors
For over 40 years, CEL has been a trusted partner in providing safe, comprehensive, fully-integrated electrical contracting services with specialization in industrial and commercial facilities. We are one of the largest electrical contractors in Western Canada with offices in BC, Alberta, Saskatchewan, Manitoba, and Ontario.

Along with Comco Controls (a division of CEL), we offer vertically integrated electrical services including design, budgeting, engineering, instrumentation, contracting, service & maintenance, panel building, control systems and automation.

CEL / Comco has a reputation of providing the highest quality customer service and workmanship, and our clients trust in us to be the industry "problem solvers" where we work proactively to identify unforeseen issues that may arise. We pride ourselves in the relationships we maintain with our clients and are in constant communication continuously providing feedback and work updates to our clients.
---
More About
CEL Electrical Contractors
---
Photos
CEL Electrical Contractors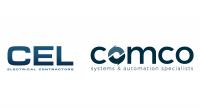 Technical Capability Summary
Construction
Cable Trays Cable Trays - Install Cable Trays - Supply Emergency Alarm System HDPE Pipe HDPE Pipe - Install HDPE Pipe - Supply Industrial Buildings Industrial Buildings - Modular Industrial Buildings - Steel Industrial Machinery - Installation Modular Buildings Modular Enclosures Pre-Engineered Metal Buildings Pre-Engineered Steel Structures Pre-Engineered Steel Structures - Design Pre-Engineered Steel Structures - Engineering
Conventional oil and gas Engineering
Automation Automation - HMI Automation - MRQ Mgmt Automation - PLC Automation - SCADA Automation - VFD Buildings Buildings - Pre Engineered Electrical Electrical - EHT Electrical - High Voltage Electrical - Low Voltage Electrical - Medium Voltage Electrical - Studies Instrumentation & Controls Instrumentation & Controls - Calcualtions Instrumentation & Controls - Control Narrtives Instrumentation & Controls - Instrumentation Specs Instrumentation & Controls - MRQ Mgmt Power Power - MRQ Mgmt Power - Power Generation Power - Renewable Energy Engineering Power - T&D
Electrical - Electrical Bulk - Cable
Cable - Control Cable - Earthing Cable - LP Cable - Power
Electrical - Electrical Bulk - Components
Cable Glands/Termination Cable Lugs Cable Marking Ferrules Cable Tags Cable Termination kits Cable Ties Circuit Breakers Conductor Earthing Matls Electrical Heat Trace Grounding Matls Junction Boxes Lighting Fixtures Miscellaneous Supports
Electrical - Electrical Equipment
Annunciator Panel Automatic Power Factor Correction Panel Battery Chargers Cable Tray Capacitor Bank Conduit Control Panels Corrosion Monitoring System Distribution Boards Distribution Equipment Electrical - Spare Parts List and Interchangeability Record (SPIR) Electric Motor Emergency Diesel Generators Integrated Protection and Control System Interposing Relay Panel Lighting Panels Lighting Towers Local Control Station Mimic Panels Multi-Cable Transit Neutral Earthing Resistor Power Management System Power Skid Reduced Voltage Soft Starter Solar Power System Switchgear Switchgears - Gas Insulated Switchgear Switchgears - High Voltage Switchgears - Low Voltage Switchgears - Medium Voltage Transformers Turbo Generators Uninterrupted Power Supply System Variable Frequency Drive Variable Speed Drive Cooling System Variable Speed Drive System
Electrical - Electrical Systems
Communications Electrical Electrical & Cathodic Protection Electrical Consumables Facility Electrical Power Generation Lighting
Electrical - Electrical Work
Cable Termination and Glanding - LV/MV Cable Tray installations Cabling and Lighting works for buildings Cathodic Protection Electrical Heat Trace Installation Industrial Electrical Installation and Testing of Electrical Equipment MV Termination and Drilling Hole Over Head Line (OHL) Works PMT Station Refrigeration Plant Temporary Power
Electrical - Fire & Security
Electronic Access Control & Intrusion Detection Electronic Detection & Alarm Electronic Monitoring & Control Electronic Safety & Security Electronic Surveillance Security, Detention & Vault Equipment
Instrumentation & Electrical
24hr emergency services Automation VFD HMI PLC Sensors Automation VFD HMI PLC Sensors - Installation Automation VFD HMI PLC Sensors - Service Automation VFD HMI PLC Sensors - Supply Battery Systems - Supply & Install Battery Systems – Supply only Card Lock – Card Access – CCTV – Security Card Lock – Card Access – CCTV – Security - Installation Card Lock – Card Access – CCTV – Security - Service Card Lock – Card Access – CCTV – Security - Supply Commercial and industrial Commercial and industrial - Electrical Commercial and industrial lighting solutions Commercial and industrial lighting solutions - Energy efficient upgrades Commercial and industrial lighting solutions - New Commercial and industrial lighting solutions - Retrofit Commercial and industrial - Maintenance Control Systems Testing Control Systems Testing - Control systems Control Systems Testing - Power quality Control Systems Testing - Systems Ground Control Systems Testing - Testing Control Systems Testing - Troubleshooting Custom Electrical Solutions Custom Electrical Solutions - Installation Custom Electrical Solutions - Service Custom Electrical Solutions - Supply Data, fibre optics communication systems Data, fibre optics communication systems - Installation Data, fibre optics communication systems - Supply Electrical - Cabling & Wiring Electrical - Cabling & Wiring - Installation Electrical - Cabling & Wiring - Service Electrical - Cabling & Wiring - Supply Electrical - General Electrical - General - Design Electrical - General - Engineering Electrical - General - Installation Electrical - General - Service Electrical - General - Supply Electrical modernization and migration planning Electrical modernization and migration planning - Installation Electrical modernization and migration planning - Service Electrical modernization and migration planning - Supply Electrical safety training – Shock – Arc Flash – Audits Energy efficiency assessment calculations and audits Energy efficiency assessment calculations and audits - Installation Energy efficiency assessment calculations and audits - Service Energy efficiency assessment calculations and audits - Supply Fibre Optic/Network Cabling Fibre Optic/Network Cabling - Installation Fibre Optic/Network Cabling - Service Fibre Optic/Network Cabling - Supply Fire Alarm system installation Fire Alarm system installation - New Fire Alarm system installation - Retrofit Infared Scanning Instrumentation Instrumentation - Design Instrumentation - Engineering Instrumentation - Installation Instrumentation - Service Instrumentation - Supply LED Lights Lighting assessments layouts payback calculations Lighting assessments layouts payback calculations - Installation Lighting assessments layouts payback calculations - Service Lighting assessments layouts payback calculations - Supply Modular Electrical Buildings Modular Electrical Buildings - Design Modular Electrical Buildings - Electrical Integration Modular Electrical Buildings - Fabrication Modular Electrical Buildings - HVAC Integration Modular Electrical Buildings - Shipping Coordination MRO contract supply and VMI services Power Inverters Project budget planning Solar, Wind and Green Energy Projects Switchboards, Electrical Switchboards, Electrical - Design Switchboards, Electrical - Engineering Switchboards, Electrical - Installation Switchboards, Electrical - Service Switchboards, Electrical - Supply Switchgear Switchgear - Design Switchgear - Engineering Switchgear - Installation Switchgear - Service Switchgear - Supply Transformers Transformers - Design Transformers - Engineering Transformers - Installation Transformers - Service Transformers - Supply UPS Systems UPS Systems - Installation UPS Systems - Service UPS Systems - Supply Utility and high voltage Utility and high voltage - Installation Utility and high voltage - Service Utility and high voltage - Supply
Mining Engineering
Automation Automation - Architectural Automation - HVAC Automation - Modularized Automation - MRQ Mgmt Automation - Pre Engineered Electrical Electrical - Calcualtions Electrical - Control Narrtives Electrical - Instrumentation Specs Electrical - MRQ Mgmt Instrumentation & Controls Instrumentation & Controls - HMI Instrumentation & Controls - MRQ Mgmt Instrumentation & Controls - PLC Instrumentation & Controls - SCADA Instrumentation & Controls - VFD Power Power - Detailed Engineering Power - FEED studies Power - MRQ Mgmt Power - Process Modelling Power - Technology selection
Non Conventional oil and gas Engineering
Automation Automation - HMI Automation - MRQ Mgmt Automation - PLC Automation - SCADA Automation - VFD Buildings - Modularized Buildings - Pre Engineered Electrical Electrical - EHT Electrical - High Voltage Electrical - Low Voltage Electrical - Medium Voltage Electrical - Studies Instrumentation & Controls Instrumentation & Controls - Calcualtions Instrumentation & Controls - Control Narrtives Instrumentation & Controls - Instrumentation Specs Instrumentation & Controls - MRQ Mgmt Power Power - MRQ Mgmt Power - Power Generation Power - Renewable Energy Engineering Power - T&D
Professional and Specialized Services
Construction mgmt Electrical Engineering Engineering, Procurment & Construction Management (EPCM) Engineering, Procurment & Construction Management (EPCM) - Construction Engineering, Procurment & Construction Management (EPCM) - Design Engineering, Procurment & Construction Management (EPCM) - Management Engineering, Procurment & Construction Management (EPCM) - Quality Control
Supplies
Electrical - Cabling & Wiring Electrical - Cabling & Wiring - Design Electrical - Cabling & Wiring - Engineering Electrical - General Electrical - General - Design Electrical - General - Engineering Emergency Alarm System
Telecommunications
Telecommunications