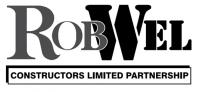 RobWel Constructors LP
RobWel Constructors Limited Partnership is owned by the Clearwater River Dene Nation Group of Companies and has been providing construction, maintenance, manufacturing and fabrication services since 1990.
---
More About
RobWel Constructors LP
RobWel Constructors is an aboriginal owned construction and fabrication company serving the Energy, Mining, Industrial, & Forestry industries throughout western Canada. We specialize in site installation and shop fabrication of pressure piping, vessels, tanks, structural steel, equipment, and general mechanical maintenance. Our services also include water and vacuum truck operations, pipeline services including hydraulic torqueing/tensioning, Pressure testing, cold cutting, and both shop and field machining. We are certified by both ASME and CWB and hold registered Quality Management Systems in Saskatchewan and Alberta. With nearly 30 years in business RobWel continues to grow and takes pride in focusing on its core values such as safety, high quality and dependability. RobWel has developed a reputation for effectively managing work to maintain budgets and schedules while always keeping safety at the forefront. RobWel is committed to building long-term, mutually beneficial and ethical relationships with our clients. We take pride in the high rate of repeat customers and we look forward to expanding this list of satisfied clients as we continue to grow in this market.
---
Photos
RobWel Constructors LP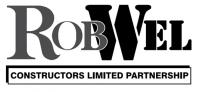 Additional Location #1
PO Box 2815
Meadow Lake, Saskatchewan S9X 1Z6
(306) 236-3099
View in Google Maps
Technical Capability Summary
Construction
Bridge & Steel Building Bridge & Steel Building - Install Bridge & Steel Building - Supply Concrete General Contracting - Piping / Mechanical / Structural HDPE Pipe HDPE Pipe - Install High Pressure Water Jetting Industrial Buildings Industrial Buildings - Steel Industrial Machinery - Installation Millwright Millwright - Install Millwright - Supply Piling and Shoring Pre-Engineered Metal Buildings Pre-Engineered Steel Structures - Design Pre-Engineered Steel Structures - Engineering Scaffolding Tanks Tanks - Design Tanks - External Tanks - Internal
Consulting
Management - Construction Management - Project Oil & Gas Operations and Maintenance Quality Assurance/Quality Control Safety
Heavy Equipment
Operation or rental with Operator
Mechanical & Piping
General Mechanical General Mechanical - Design General Mechanical - Installation General Mechanical - Service General Mechanical - Supply Mechanical - Sheet Work and Duct Work Mechanical - Sheet Work and Duct Work - Design Mechanical - Sheet Work and Duct Work - Installation Mechanical - Sheet Work and Duct Work - Service Mechanical - Sheet Work and Duct Work - Supply Parts - Mechanical & Piping Parts - Mechanical & Piping - Installation Parts - Mechanical & Piping - Service Parts - Mechanical & Piping - Supply Pipe - Couplings - Installation Pipe - Couplings - Service Pipe Fusion Pipe Fusion - Installation Pipe Fusion - Service Pipe - HDPE Pipe - HDPE - Installation Pipe - HDPE - Service Pipe - HDPE - Supply Pipe - Pressure Certified (T-Sask) Pipe - Pressure Certified (T-Sask) - Installation Pipe - Pressure Certified (T-Sask) - Supply Pipe - Steel Pipe - Steel - Design Pipe - Steel - Installation Pipe - Steel - Service Pipe - Steel - Supply Process Piping Work Process Piping Work - Installation Process Piping Work - Service Process Piping Work - Supply Valves - Installation Valves - Service
Metal Fabrication
CWB W47.1 CWB W47.2
Mining
Steel Fabrication Steel Fabrication - chutes & ducts Steel Fabrication - grizzlies Steel Fabrication - hoppers Steel Fabrication - pump boxes Steel Fabrication - tanks
Pipeline
Construction Construction - Management Construction - Quality Assurance Construction - Quality Control Maintenance
Services
Maintenance - General Maintenance - Mechanical Oilfield Equipment & Maintenance Pipe Fusion Pipe Fusion - HDPE Pipe Fusion - Up to 20" DIPS Pipe Fusion - Up to 6" DIPS Preventative Maintenance - Mechanical
Supplies
Parts - Mechanical & Piping Pipe - HDPE Pipe - HDPE - Fittings Pipe - Steel Steel - Structural Steel - Structural - platforms Steel - Structural - structural steel
Testing
Pressure
Welding
Compressed gas Pressure Line Welding Welding Service Welding Service - Alloy Steel Welding Service - ASME Welding Service - Carbon Steel Welding Service - CWB Welding Service - TSASK