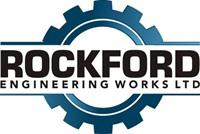 Rockford Engineering Works Ltd.
Rockford Engineering Works Ltd is a Mechanical/Industrial Engineering firm based in Regina, SK. Our principal group consists of Professional Engineers & Registered Technologists with a combined 150+ years of applied experience balanced between an office & field environment. Our core group has managed significant design-build projects globally with hands-on experience throughout the entire scope (conceptual engineering, complete design, facility layout, equipment & machine design, drafting, Project Management, manufacturing, installation, final commissioning). We provide an entire range of engineering services to meet all of our clients' needs.
---
More About
Rockford Engineering Works Ltd.
Rockford Engineering specializes in machine design, material handling, process improvement, product development, and automation. Generally, any designs or solutions of a mechanical nature is what we do – either new "greenfield" start-ups and layouts or the re-working of existing systems of a "brownfield" nature. We are also certified to practice industrial engineering in Alberta, Saskatchewan, and Manitoba. This includes stamping and certification of most lifting devices, lift plans, and mobile equipment certifications.
---
Photos
Rockford Engineering Works Ltd.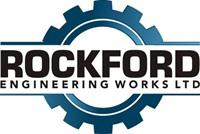 Technical Capability Summary
Construction
Tanks - Design Tanks - Engineering
Consulting
Equipment Maintenance Mining - Design Mining - Engineering Oil & Gas Operations and Maintenance - Design Oil & Gas Operations and Maintenance - Engineering
Conventional oil and gas Engineering
Automation Automation - HMI Automation - PLC Automation - SCADA Automation - VFD Mechanical Mechanical - Pumps Mechanical - Tanks Piping and Plant layout Piping and Plant layout - Lift Studies Piping and Plant layout - Model Reviews Piping and Plant layout - MTOs Piping and Plant layout - Pipeline Engineering Piping and Plant layout - Plot Plans Process Engineering - Eqpt Sizing, Calcs, Studies
Heating & Ventilation
Mine Ventilation Mine Ventilation - Design Mine Ventilation - Engineering
Heavy Equipment
Agricultural Industrial and Oilfield Industrial and Oilfield - Design Industrial and Oilfield - Engineering Industrial Machinery Industrial Machinery - Design Industrial Machinery - Engineering Mining Mining - Design Mining - Engineering
Mechanical & Piping
General Mechanical - Design General Mechanical - Engineering Pipe - Steel - Design Pipe - Steel - Engineering
Mining
Belting - Processing - Design Belting - Processing - Engineering Converyor Rollers & Systems Converyor Rollers & Systems - Design Converyor Rollers & Systems - Engineering Feeder Breakers Mining Services & Underground Development Mining Services & Underground Development - Design Mining Services & Underground Development - Engineering
Mining Engineering
Automation Automation - Modularized
Mining Equipment
Belt Winder Continuous Haulage Continuous Miner Continuous Mining Machines Custom Vehicle Fabrication Material Handling Process Equipment - Mining Process Equipment - Mining - Design Process Equipment - Mining - Engineering
Professional and Specialized Services
Electrical Engineering Engineering, Procurment & Construction Management (EPCM) - Design General Engineering General Engineering - Electrical General Engineering - Mechanical Machine Automation Mechanical/Engineering Mechanical/Engineering - Design Mechanical/Engineering - Retrofit Mechanical/Engineering - Studies
Services
Engineered Fall Protection Systems